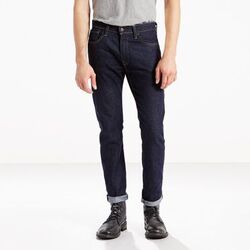 505C is a style of jeans for men by Levi's.
History
Levi's 505 jeans was an iconic style during the 1970s. It was introduced in 1967. It was made famous among others by The Ramones or by the Rolling Stone's Sticky Fingers album cover.
In 2016, a re-designed version was introduced as 505C (C meaning "customized"). Some of the washings are named after the stage names of The Ramones.[1]
Images
Washings
Launch
Images from the Launch Event on July 19, 2016 in New York City[2]
Lookbook
Models presenting Levi's 505C Slim Fit jeans in different washings
External links
Cite error: <ref> tags exist, but no <references/> tag was found